Happy New Year! As we enter the new year, it's the perfect time to reflect on the past and set new goals for the future. And what better way to do that than by giving ourselves a complete makeover? That's right, we've recently undergone a rebranding process and are now the upgraded v2.0 of ourselves.
Our company was founded in 2017 by a couple of passionate young engineers in their early 30s. At the time, we were focused solely on manufacturing PSA oxygen plants for hospitals since we saw the need in the market.
Over the past eight years though, we've come a long way, expanding our team to over 150 employees and serving over 300 clients, including more than 130 government contracts.
During the dire times of the COVID-19 pandemic, oxygen was in high demand as an essential commodity for medical establishments. With hospitals running low on oxygen, our team stepped up and worked tirelessly to manufacture and install over 130 PSA oxygen plants across the country within a four-month period. This effort played a significant role in our company's growth and success – we learned that our company is a family that comes together during tough times.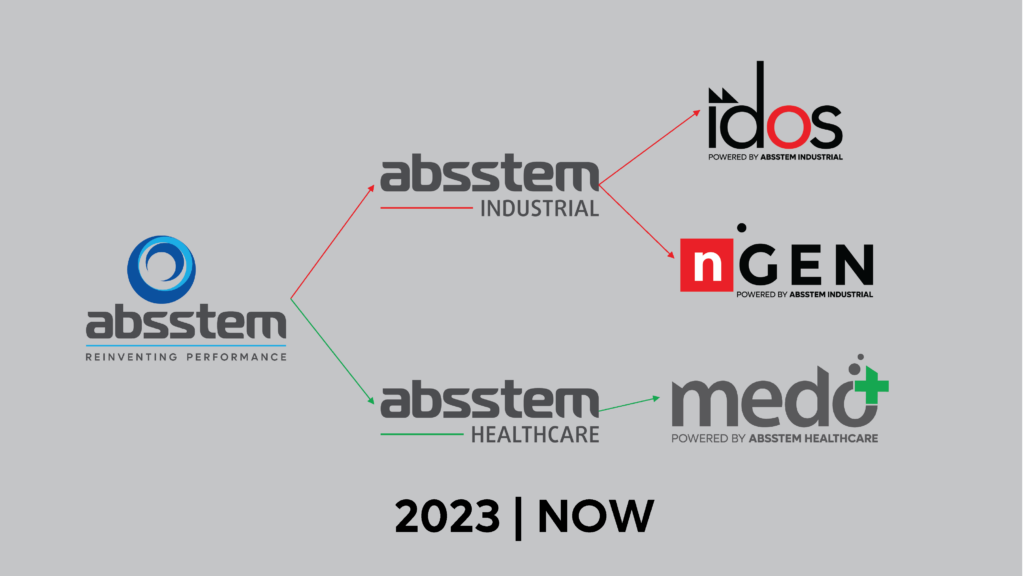 It was during this time that we realized the importance of constantly re-evaluating and improving ourselves in order to stay ahead of the competition and meet the evolving needs of our clients. After more than a year of discussions and brainstorming, we've emerged as the new and improved, with a refreshed brand and identity.
Our rebranding efforts were guided by the belief that, as engineers, we are constantly seeking ways to increase performance, quality, and efficiency. This mindset is reflected in our new brand, which represents our commitment to constantly improving and innovating. In addition to expanding our product line to include PSA nitrogen generators (nGEN) with purity levels up to 99.9995% (which is pretty much as pure as it gets if you ask us), we've also launched Absstem Industrial Solutions Pvt. Ltd. focussing exclusively on serving industrial clients. As mentioned earlier, nGEN is one of the products Absstem Industrial offers. The other is the Idos (Industrial Oxygen Solutions)
We believe that our new brand and expanded capabilities will allow us to better serve and meet the needs of our clients, and to continue growing and thriving as an organization. We're excited to share our new identity with our existing customers, as well as with new leads and website visitors. We hope that our rebrand will help us to stand out in a crowded market and to continue pushing the boundaries of what is possible.
As we enter the new year, we're looking forward to the opportunities and challenges that the future holds. We hope that our new brand and expanded capabilities will help us to continue delivering top-quality products and services to our clients, and to make a positive impact in the world.
Thank you for choosing us as your partner in engineering excellence. Here's to a bright and successful future together!